PRESS START EP (2015)
---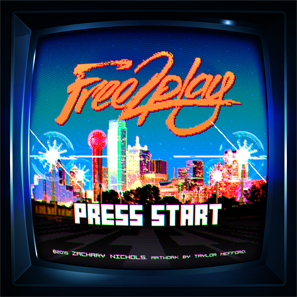 Graphic Design by Taylor Mefford

Music Written and Performed by Free2Play (Zach Nichols)
Album Produced by Zach Nichols

Zach Nichols asked me to create an 8-Bit style cover artwork for his upcoming EP "Press Start", featuring 9 original tracks.

The artwork was created mostly in Adobe Illustrator CC 2015 and touched up with additional effects in Adobe Photoshop CC 2015. For the style and color of the Artwork, Zach gave me references to "Streets of Rage" and other old 8-Bit games that gave off the "nightlife" vibe that he was going for. This was my first experience into doing 8-Bit artwork and proved to be an excellent learning experience that resulted in one of my best pieces of graphic design yet.